I have a sewing machine that I purchased when I was 19. It was the very first electronic sewing machine made by Viking, according to the salesperson. Based on when I purchased it and how old I am now, I guess you could call it vintage.
I used it a bit when I first got it. I took some classes with my Mom and learned how to make lingerie, bathing suits, and even a tailored suit. But, to be honest, I never really liked to sew until I got my first home and was having our first son. I designed and made all his baby bedding. It felt so good and I really enjoyed doing it.
Fast forward 22 years. My son is having a baby. I work full-time, work two outside the home businesses, and spend a lot of time with the Cowboy (who really likes me to be close to him as much as possible.) I cannot figure out why I blurted out that I would make the baby bedding for my first grandchild!
After a few weeks and stolen hours, I finally finished it today. I will never do it again unless I get a new machine. It was a challenge because my 'vintage' sewing machine was not very friendly to me and kept jamming up. But, all in all, I am happy with it.
I really wasn't planning on blogging about it and, since sewing is not really my thing, I didn't take any pictures of the actual process, but I thought I might as well share it with my 11 followers!
My son did a great job on painting the baby room. I don't have any before pictures, but their apartment was all white walls. He installed a chair rail and painted one wall with stripes and the other in a pale lime green. I couldn't set up an actual photo shoot, so please pardon the lack of nice pictures.
This is the bed prior to being made up. The colors are pale lime green, black and white. Three of the walls are the shade of green in the picture. You can see the black chair rail behind the bed.
My son painted this wall in black and white stripes. I love it! He did a great job.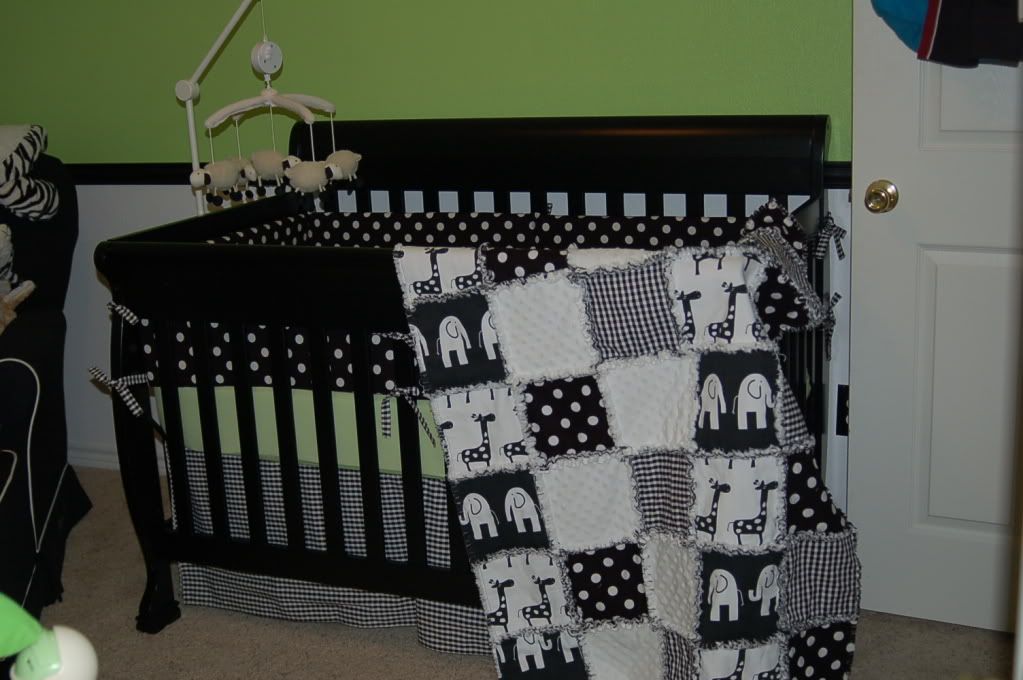 I apologize about the quality of the pictures in this post. It was super dark in the apartment and most of my photos were from my phone. In addition, it was jam packed with all their baby shower goodies that I tried to keep out of the photos. I love the way the rag quilt turned out. In case you have a hard time seeing it, that prints are white elephants on a black background, black giraffes on a white background, white minky dots, black and white houndstooth and black and white dots. The bed skirt has a pleat in the front and it in houndstooth and the bumper pads are black and white dots.
I think I may surprise them with a cute window treatment, but haven't decided what to do yet. I think it turned out pretty sweet. What do you think?
Pin It
Linking to:
LoveBakesGoodCakes
TwinklingTrees
The Crafty Blog Stalker
AKA Design